Honeymoon Loans
Book your honeymoon plans now with a personal loan.
---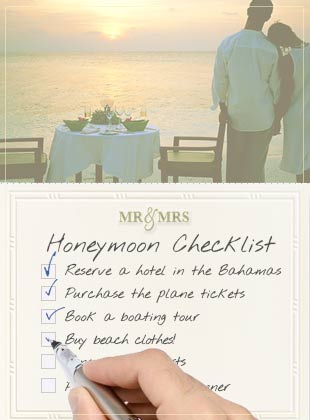 There's a reason why booking a honeymoon trip has become popular. You've spent a year or more planning your wedding. Now, you and your new spouse need to take a break to share some private time. However, you have to buy plane tickets, reserve a week at an all-inclusive resort, and go shopping for festive honeymoon clothing. A honeymoon loan offers newly married couples financing for airfare, hotel accommodations, and fashionable attire, in addition to other expenses for their romantic getaway.
Your honeymoon should be stress free. Thankfully, an unsecured loan for honeymooners can help you finance this well-deserved trip. As a newlywed, you should be free to buy plenty of locally made souvenirs, colorful cocktails embellished with tiny umbrellas, and room service served on trolley carts. It's time to relax with your new husband or wife. You won't get this precious time back, so don't waste it worrying about money! This exciting trip is the one time in life where you're expected to not worry about a price tag.
Find the financing you need for your wedding's honeymoon with a personal loan now.
I'm ready to apply